Save to foursquare
Dark Night Rises
If the MET Gala 2012 hosted in New York recently was to be referred for the latest trends in fashion then its very loud and clear that dark make up is basking in the evening spotlight. The MET Gala by the Costume Institute of the Metropolitan Museum of Art in Manhattan which is excessively referred as the 'Oscars of Fashion' saw many fashion icons, A list celebrities wear the trend without looking gothe. Kue Bar on its Fashion Friday evenings would like to set the dark make up trend among its glitz and glam guests that party every weekend at the ultimate night destination. Whether its the latest trends in evening wear, accessories or the look Fashion Fridays will be presenting each week the trend of the season. To know more about Fashion Fridays call +91 9823 450 442
As the Dark Night rises every weekend at Kue Bar you could showcase your fashion trend for the week by posting your images at Kue Bar on Twitter@westinpune or Facebook .
Check in & write a review of your experience on our location based sites
Camille Belle in 3 shade lip color at the
MET Gala 2012
Jessica Alba seen in Michael Kors at the
MET Gala 2012
Dark make up is generally not seen during the spring summer season as it doesn't blend with the colors however the evening wear with its 20's trend for the season has got very nearly red-black lips with bold dark eyes and a one tone face and neck color without blush have accentuated the biggest assets of the beautiful face. Since the 20's are ruling the glamour and glitzy evenings the dark lips were first seen
for spring on the Prabal Gurung and Donna Karan runways. At the Met Gala everyone from Kate Bosworth to Jessica Alba, showed off their take on the look for one of fashion's biggest nights. One of the most dramatic looks of the night belonged to Camilla Belle who went for Cabernet lips. While Jessica Alba went for her mulberry lips, dark eyes and wavy hair to give 20's Hollywood meeting a Greek Goddess.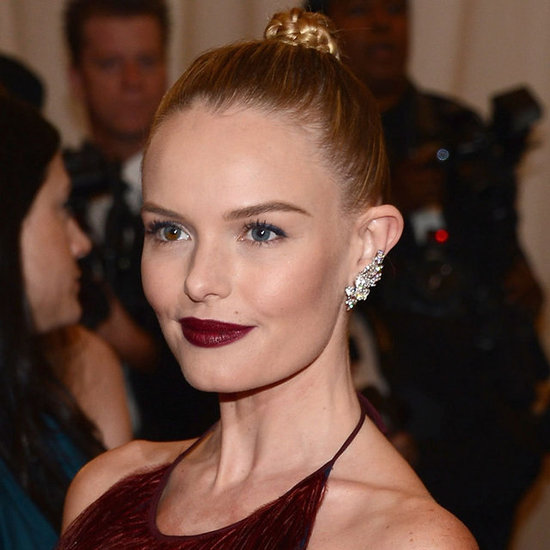 Kate Bosworth in Nars lip color
Kate Bosworth epitomized the vampy look with Nars matte lipstick in Volga keeping everything from cheek to eyes minimal giving her dark lips the center stage. The lip color went dramatically well with her Prada fringe dress.
Leighton Meester in gold shimmer and dark red lip color
So did Leighton Meester who wore the stunning Marchesa gold gown with dark red lips and shimmer make up.